Karen Oeding, Experienced
Websites, online reputation, database administration. 
Stumped?
By your website, Google, and online presence?
Let's work on that
Own an understandable, unified, engaging presence.
Professional, 

Mature, 
&
Result Oriented
I bring a wide scope of experience to your team and project. I take time to research modern standards and have tools to help me create and manage your organization's digital assets.
First things first: You and I will  identify the most urgent priorities and make sure your budget stays on track. Let's not overspend with unneccessary expenses.
We'll list the assets you have, discover what you need to have right now. We'll get other professionals for graphics, logos, and important functions for a site that serves you long term. As this site performs, we make plans for Phase 2.
Are clients finding us? What are the most effective parts of your site and what is useless clutter? I have tools to help  determine what's working so we can improve our impact.
Personal Referral or Startup Studio
All prices below are "starting at:" and for new clients/projects. Contact me for availability and a custom quote through the form below.
Start new: Together we'll identify what content you have and what you need. Structure comes after you and I both agree I have all the assets to make your site work for you.
Revitalize a larger site: We'll work together to identify what is best about your site and declutter the rest. Once we both agree on all the assets, I'll create structure that makes sense and gets your site on track again. We'll discover what your clients are really looking for.
As part of the Startup Studio and  The Mill   Community, I offer custom quoting to Startups within our ecosystem at a reduced rate. Minimum Viable Websites, consultation, definition of scope and more. Available to start one now.
Hack Recovery to your most recent clean backup. Includes 3 months of observation post hack event.
No backup? $8000 and you can expect significant loss of your data.
Maintenance Plan including management of annual hosting and domain renewal, monthly backup and scan for malware,  and more. Limited availability – room for one starting in January 2023.
One day of concentrated work on the most important aspect of your website. A full day of  focused care on your website, online presence, and/or assets. Goals discussed before booking.
* Projects through Startup Studio align with that program's pricing.
I continue to work within budgets already agreed upon with current clients.
Allow 8 weeks after all your content is in our mutually accessible online folder for a complete product. The first deliverable is a landing page for most new projects with your important information. No "coming soon" splash.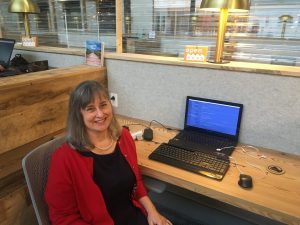 Let's Conspire to Do Good Work
Voice mail or text (317) 782-5091‬
Business solicitation or partnering opportunities should use LinkedIn so I can see your profile.
Current clients have my cell for voice or text and my direct email
Google Form for client or bid request use only: